Sunday Celebrations
11:00 a.m.


Creative Life Spiritual Center

Campus Address:
5326 Spring Stuebner Rd. Ste. 200
Spring, Texas 77389

Mailing Address:

7 Switchbud Pl., PMB 232

The Woodlands, TX 77380




Phone: 281.350.5157

Support Your Center

DID YOU KNOW?

Read or download current or
past issues of our Newsletter
from our website.
Go Here »

Subscriptions For Lectures
On CD Now Available
online in our
Bookstore »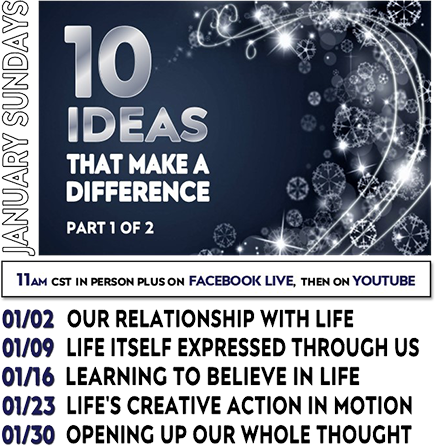 The January Sunday series is part one of "Ten Ideas That Make a Difference," with part two to come in February. These two months will serve as an introduction to the basics of our Science of Mind faith, philosophy, and way of life -- drawing from the ideas in a little-known and out-of-print book by that title, written by Ernest Holmes. We'll discuss the application of spiritual law and the mechanics of prayer/treatment within and around the vast mysteries of life. Holmes writes, "Every person is born to be creative, to live to the fullest, an to enjoy life; to be happy and glad and prosperous and whole. If we make our life constructive, and if our whole desire is to live in such a way as to harm no one, but to bless all, then there is no limit to our use of that Power greater than we are." us for these fun and useful Sunday messages, in person in our Great Hall, and on Facebook Live at 11am CT, or enjoy later on the Creative Life YouTube channel.

Sunday Talks Playlists

Visit the

Sunday Talks

page for audio recordings of talks given during our Sunday services, mostly by our founding minister, Jesse Jennings. May you find them helpful on your journey.


CREATIVE LIFE SPIRITUAL CENTERS
Creative Life is a spiritual community in suburban Houston, Texas, teaching and living the Science of Mind, a transformational path first articulated by the American philosopher Ernest Shurtleff Holmes (1887-1960).  learn more »

VISITORS WELCOME: We have activities for all people and interests, and welcome everyone, especially those for whom traditional Western religion has seemingly had no place.  learn more »

What makes Creative Life the fun, exciting, uplifting, stimulating, evocative and inviting place it is? Why it's our people of course! No matter what your path or interests, you'll never find a more accepting and supportive group of fellow God-lings! Learn more about our Spiritual Practice »

SUNDAY CELEBRATIONS
We gather Sunday at 11am in the Great Hall to renew friendships and enjoy exciting celebrations and encouragements by minister Dr. Jesse Jennings, the music of Geoffry Oshman and guests, and the spiritual support of our practitioners.

OUR MUSIC:
Festivities and Gatherings feature CLC's musical talent. Music Director Geoffry Oshman often arranges for professional artists to visit The Center for Sunday Celebrations and special events.  learn more »

CHILDREN & YOUTH:
While adults enjoy the 11am celebration each week, our dedicated and loving teachers are helping your children to realize their own inner magnificence. We have gatherings for all ages plus a special room for parents with infants where you can enjoy the celebration in comfort with your child.  learn more »




NEWS & EVENTS
The public is enthusiastically invited to these events...
Lecture CD Subscriptions
Now available for purchase online in our
bookstore
Every Day, 9:00am CT
Rev. Lisa Ryan
reads from
365 Days of Richer Living
on
Facebook Live
(free)
Every Day, 5:00pm CT
Rev. David Dewhurst
reads the "Daily Guide"
from
Science of Mind
magazine on
Facebook Live
(free)
Sundays, 11:00am CT
Celebration service
, also on
Facebook Live
,
later on
Youtube
(appreciative giving)
Sundays, Noon CT
Prayer by phone
(audio only)
Call (605) 468-8016 and enter code 572290# (free)
Sunday, Jan. 9, 1:30pm CT
Celebration of Life
service for
Janet Carman
Mondays, 6:00-7:00pm CT
Collected Writings of Florence Scovel Shinn
book study/discussion
via Zoom with
John Rennie, RScP.
(free)
Mondays, Jan. 3 & 17, 7:00pm CT
Toastmasters meeting
via Zoom (club membership fee)
Mondays, 6:30pm-9:00pm CT, starting Jan. 25
Essential Ernest Holmes course
via Zoom
(Tuition $295, Review Students $145)
Wednesdays, 6:00-7:00pm CT
Living the Science of Mind
book study via Zoom (appreciative giving)
Wednesday, Jan 19, 7:00-8:00pm CT
Soul Session dialogue
with
Donald Jeanlewis, Jr.,
and
minister Jesse Jennings
(free on Facebook)
Thursdays, 6:30-7:30pm CT
Ten Ideas That Make a Difference book study/discussion
via Zoom with Sarah Westbrook RScP (appreciative giving)
Thursdays, 7:00pm CT
Meditation and Prayer Support (audio only)
Call (605) 475-4847 and enter code #472220