Sunday Celebrations
9:30 a.m. & 11:00 a.m.
Wednesday Celebrations
7:00 p.m.

Creative Life Spiritual Center

Campus Address:
5326 Spring Stuebner Rd. Ste. 200
Spring, Texas 77389
Mailing Address:
7 Switchbud Pl., PMB 232
The Woodlands, TX 77380
Phone: 281.350.5157

Support Your Center

DID YOU KNOW?

Read or download current or
past issues of our Newsletter
from our website.
Go Here »

Subscriptions For Lectures
On CD Now Available
online in our
Bookstore »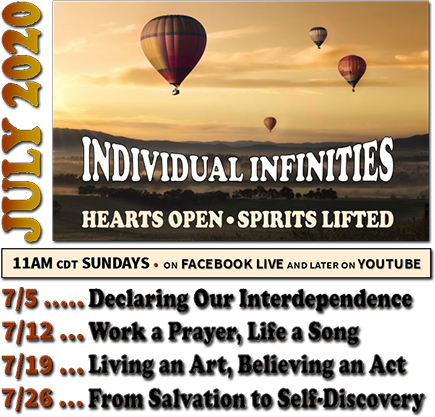 July's Sunday encouragements by minister Jesse Jennings will be on the theme, "Individual Infinities: Hearts Open, Spirits Lifted." We are contained in the All, while the wonder of the All arises within us. We enjoy immediate access to the creative impulse driving all change and progress, which is filtered only by our perceptions and beliefs — with a fresh outlook only a thought away. We are more than we know so it's time to know more, through self-exploration, spiritual practice, and compassionate engagement with one another. Ideas will be drawn from the Holmes Reader on Meaning, which you can order from the Science of Mind Archives. Join us online every Sunday at 11:00am CDT on Facebook Live and later in the day on the Creative Life YouTube channel.


Sunday Talks Playlists

Visit the

Sunday Talks

page for audio recordings of talks given during our Sunday services, mostly by our founding minister, Jesse Jennings. May you find them helpful on your journey.


CREATIVE LIFE SPIRITUAL CENTERS
Creative Life is a spiritual community in suburban Houston, Texas, teaching and living the Science of Mind, a transformational path first articulated by the American philosopher Ernest Shurtleff Holmes (1887-1960).  learn more »

VISITORS WELCOME: We have activities for all people and interests, and welcome everyone, especially those for whom traditional Western religion has seemingly had no place.  learn more »

What makes Creative Life the fun, exciting, uplifting, stimulating, evocative and inviting place it is? Why it's our people of course! No matter what your path or interests, you'll never find a more accepting and supportive group of fellow God-lings! Learn more about our Spiritual Practice »

SUNDAY & WEDNESDAY CELEBRATIONS
We gather Sunday at 9:30am & 11am and Wednesday at 7:00 pm in the Great Hall to renew friendships and enjoy exciting celebrations and encouragements by minister Dr. Jesse Jennings, the music of Geoffry Oshman and guests, and the spiritual support of our practitioners.

OUR MUSIC:
Festivities and Gatherings feature CLC's musical talent. Music Director Geoffry Oshman often arranges for professional artists to visit The Center for Sunday Celebrations and special events.  learn more »

CHILDREN & YOUTH:
While adults enjoy the 11am celebration each week, our dedicated and loving teachers are helping your children to realize their own inner magnificence. We have gatherings for all ages plus a special room for parents with infants where you can enjoy the celebration in comfort with your child.  learn more »




NEWS & EVENTS
The public is enthusiastically invited to these events...
Lecture CD Subscriptions
Now available for purchase online in our
bookstore
Dates/times TBA
Be the Change
anti-racism initiative via Zoom
on
Facebook Live
Every Day, 9:00am CDT
Rev. Lisa Ryan
reads from
365 Science of Mind
on
Facebook Live
Every Day, 5:00pm CDT
Rev. David Dewhurst
reads the "Daily Guide"
from
Science of Mind
magazine on
Facebook Live
Every Sunday, Noon CDT
Prayer by phone
(audio only)
Call (605) 475-4847 and enter code #472220#. No charge.
Sundays, Jul 12-Aug 23, 4:00-6:00pm CDT
Revealing Wholeness
(Science of Mond class via Zoom);
tuition $175 plus books
Mondays, July 6 & 20, 6:30pm CDT
Toastmasters meeting
via video call (club membership fee)
Every Wednesday, 7:00pm CDT
Contemplation & Conversation
with
Rev. Marsha Lehman,
via Zoom
Every Thursday, 7:00pm CDT
Prayer by phone
(audio only)
Call (605) 468-8016 and enter code 572290#.
Every Thursday, 7:00pm CDT
A Course in Miracles
discussions via Zoom
Every Thursday, 7:30pm CDT
TransAlliance of Spring
support group via Zoom (free)