Sunday Celebrations
9:30 a.m. & 11:00 a.m.
Wednesday Celebrations
7:00 p.m.

Creative Life Spiritual Center
5326 Spring Stuebner Rd. Ste. 200
Spring, Texas 77389
Phone: 281.350.5157

Support Your Center

DID YOU KNOW?

Read or download current or
past issues of our Newsletter
from our website.
Go Here »

Subscriptions For Lectures
On CD Now Available
online in our
Bookstore »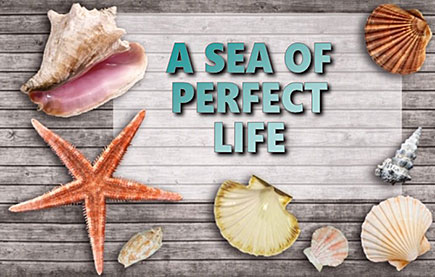 Come join us Sundays and Wednesdays in June for talks by minister Jesse Jennings (and three guests) around the theme, A Sea of Perfect Life. Earth's vast and beautiful oceans call us to adventure and discovery. Life is the sea; charts, the guidance of our teachers'; sails, how we catch power; the rudder, how we navigate through our choices; the horizon, our self-selected destiny. This month we'll use the Bible creation stories; Ernest Holmes' The Science of Mind; some teachings from Zen Buddhism; and Tennyson's poem about Odysseus and Telemachus, father and son in Homer's Odyssey.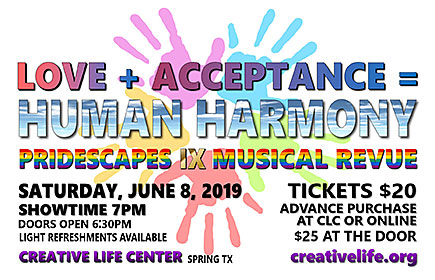 NEW ADDITION TO THIS SITE: Sunday Talks Playlists

Visit the

Sunday Talks

page for audio recordings of talks given during our Sunday services, mostly by our founding minister, Jesse Jennings. May you find them helpful on your journey.


CREATIVE LIFE SPIRITUAL CENTERS
Creative Life is a spiritual community in suburban Houston, Texas, teaching and living the Science of Mind, a transformational path first articulated by the American philosopher Ernest Shurtleff Holmes (1887-1960).  learn more »

VISITORS WELCOME: We have activities for all people and interests, and welcome everyone, especially those for whom traditional Western religion has seemingly had no place.  learn more »

What makes Creative Life the fun, exciting, uplifting, stimulating, evocative and inviting place it is? Why it's our people of course! No matter what your path or interests, you'll never find a more accepting and supportive group of fellow God-lings! Learn more about our Spiritual Practice »

SUNDAY & WEDNESDAY CELEBRATIONS
We gather Sunday at 9:30am & 11am and Wednesday at 7:00 pm in the Great Hall to renew friendships and enjoy exciting celebrations and encouragements by minister Dr. Jesse Jennings, the music of Geoffry Oshman and guests, and the spiritual support of our practitioners.

OUR MUSIC:
Festivities and Gatherings feature CLC's musical talent. Music Director Geoffry Oshman often arranges for professional artists to visit The Center for Sunday Celebrations and special events.  learn more »

CHILDREN & YOUTH:
While adults enjoy the 11am celebration each week, our dedicated and loving teachers are helping your children to realize their own inner magnificence. We have gatherings for all ages plus a special room for parents with infants where you can enjoy the celebration in comfort with your child.  learn more »




NEWS & EVENTS
The public is enthusiastically invited to these events...
Lecture CD Subscriptions
Now available for purchase online in our
bookstore
Every Sunday, 9:30 & 11:00am
Celebration Services
with
Dr. Jesse Jennings
(appreciative giving)
Every Sunday, 10:30am
Morning Meditations
(free)
Every Sunday, 11:00am
Classes and Activities for all Ages of Children/Youth
(free)
Every Wednesday, 12:00-2:00pm
Wisdom of the Universe
discussion (appreciative giving)
Every Wednesday, 7:00pm
Midweek Celebration Service
with
Dr. Jesse Jennings
or a guest (appreciative giving)
Every Thursday, 7:00pm
A Course in Miracles
discussions (appreciative giving)
Every Thursday, 7:30pm
TransAlliance of Spring
support group (free)
Every Saturday, 5:00pm
Codependents Anonymous
open meeting (Seventh Tradition)
Sunday, June 2, 12:15pm
Buffet Brunch
($5 per family suggested)
Sunday, June 2, 1:00pm
Your Guide to Creative Life
newcomers' workshop (free)
Saturday, June 8, 7:00pm
9th Annual Pridescapes Musical
(tickets $20 advance, $25 at door)
Sunday, June 9, 11:00am only
Special speaker
Rev. Arthur Johnson
(appreciative giving)
Sunday, June 16, 9:30 & 11:00am
Father's Day musical guest
Susan Gibson
Sunday, June 23, 9:30 (regular service at 11:00am)
Summer Solstice
circle with
Natalie Maisel
(appreciative giving)
Sunday, July 7, 12:15pm
Buffet Brunch
($5 per family suggested)
Sunday, July 7, 1:00pm
Your Guide to Creative Life
newcomers' workshop (free)
Sundays, July 21 & 28 1:00-4:00pm
Science of Mind
Quickstart class
with
Rev. Morene Barker-Morris
(appreciative giving)