Books & Recordings
---
Lectures on CD Subscriptions




---
The Creative Life Bookstore, located across the courtyard from the Great Hall, is where you'll find one of the best metaphysical and "self-help" bookstores in any Religious Science center, with over 2,800 book titles, ranging from the latest bestsellers to hard-to-find spiritual classics, biographies and reference works-as well as our specialty, New Thought in all its manifestations. Plus there are hundreds of audio titles-music, guided meditation and books-on tape, and an array of gifts, crafts, cards, and Science of Mind emblem jewelry. Come see us before and after CLC events and all morning on Sundays.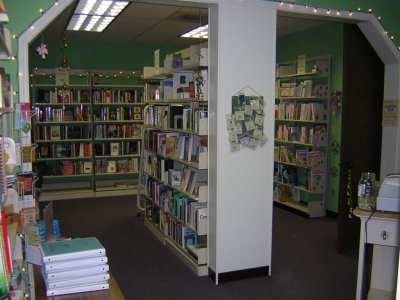 Texts and workbooks used in all of the Science of Mind courses conducted at the Center as well as books used by Rev. Jesse Jennings as the basis for his monthly Sunday Encouragment themes will be available. All major credit cards are welcome. We're happy to fulfill mail orders, and are the gateway to tape or CD weekly subscriptions or individual orders of our founding minister's Sunday talks. If there's something out of the ordinary you desire, the bookstore can also attempt to special order it for you.

For more information or to request a particular item, stop by the bookstore yourself, give us a call at (281) 350-5157.


Books and Other Recordings will be available for online purchase soon!
---
Featured Book:
The Hidden Power of the Bible by Ernest Holmes
(Preface by Jesse Jennings)
  

  

The inspiration of Ernest Holmes has reached hundreds of thousands of readers through his classic works, many of which are just now becoming available in paperback. Originally published in 1929 as The Bible in Light of Religious Science, this exegesis on the hidden lessons of some of Scripture's best-known verses has been largely unavailable-and even unknown-since the 1940s.

Indeed, this edition comes as a brand-new work to the many readers of Ernest Holmes. It is fully reset and redesigned, published for the first time with an index, and includes a new preface to frame the book for the contemporary reader.
---
Other Featured Titles:
The Essential Ernest Holmes
Collected Writings by the Author of The Science Of Mind
By Ernest Holmes Edited By Rev. Jesse Jennings
A Comprehensive Introduction to the Work of the Author of the Classic Science of Mind Textbook
  

  

Here, in one volume, is a selection of the core and essential writings by internationally renowned scholar, mystic, and author Ernest Holmes, providing readers with a library of the most important ideas in the religious psychology that Holmes defined.

The Essential Ernest Holmes comprises selections from classic works such as This Thing Called You, The Science of Mind textbook, and Creative Mind and Success-but also included are brilliant passages from some of Holmes's lesser-known works, such as The Voice Celestial, as well as a generous sampling from articles and lectures.

The book features remembrances of the beloved sage and teacher from the works of his contemporaries; a chronology of Holmes's life and work; and an accessible introduction by editor Jesse Jennings that frames Holmes's body of ideas for all readers.
---